Posted on
By Bekah Esquibel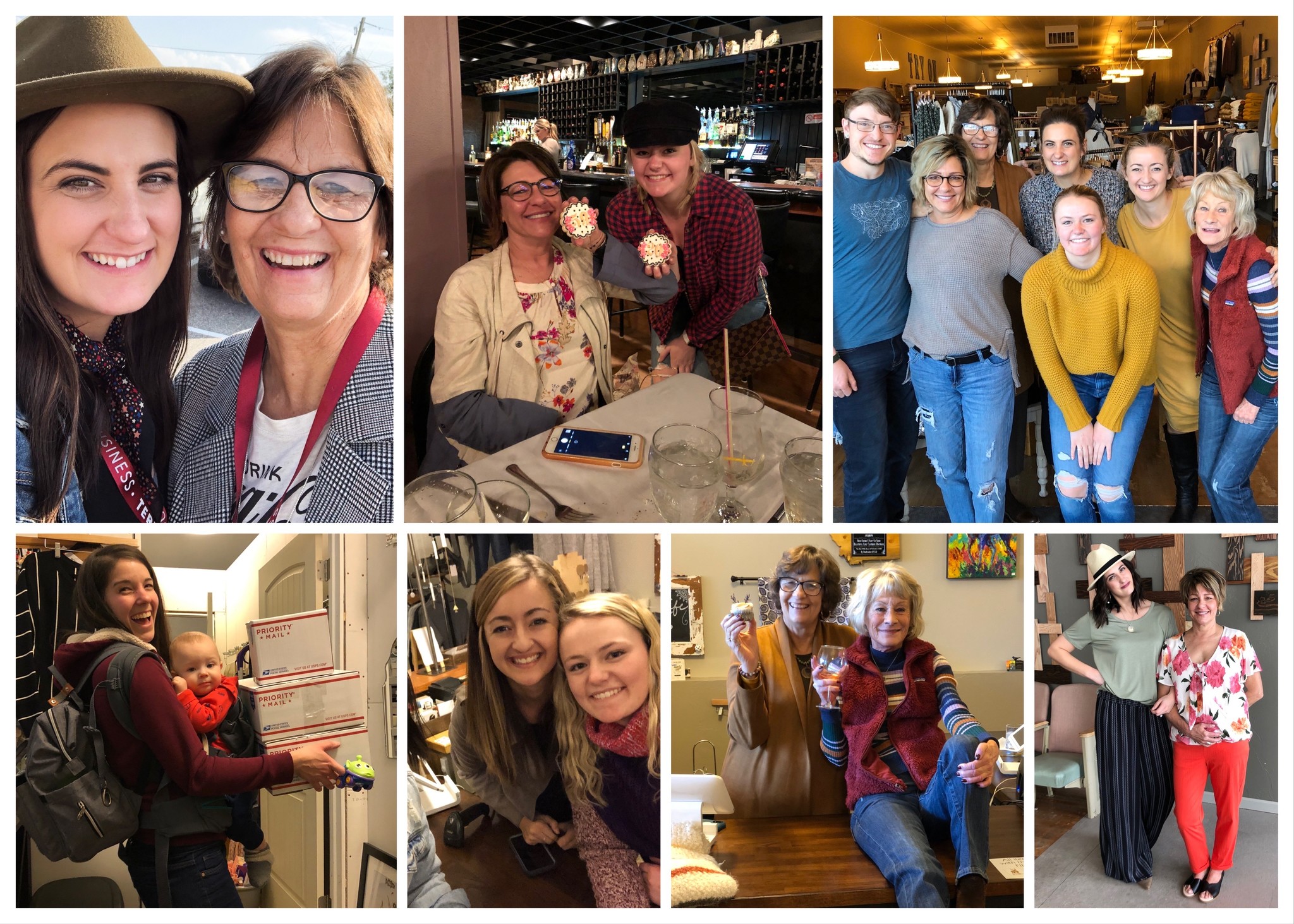 It's International Women's Day and all day long my feed has been full of women supporting women and positive posts about how far women have come and how far we will go. I love seeing these posts and I find them inspiring, but even more than that, they make me feel thankful for the amazing women in my life.

Today, I thought about my support systems, aka best friends, and know that I would be more anxiety-ridden than I already am without so many smart, funny, amazing women to lean on.
I thought about my mom-friends and my career oriented friends and my childhood besties, and most of all, I thought about my mom. She's my business partner and therapist and moral compass and she's the most amazing woman I know, so celebrating International Women's Day without mentioning her would be a crime.

Thinking about my mom and our business led me to think about another very important group of women - our team at Beautiful Life. We have a team made up of primarily women. (And Andrew, but this post is about women, so Andrew, if you're reading this, just know I'm thankful for you and that you'll get an appreciation post all to yourself one day - promise!)

Our Beautiful Life ladies are the exact type of people I want to surround myself with every day of my life. I admire them for the ideas they have, the opinions they share, and for their ability to connect with our customers. I can't believe we've built this team in small-town, Anaconda, MT. 
I want to say thank you to these women for working with my mom and I to continue growing Beautiful Life Clothing Boutique into a place that makes women feel good. A place where we not only dress women, but help them express who they want to be through what they wear. The clothing business may get labeled as superficial, but if we're being honest, how you look and feel does make a large difference in how well you're able to show up for your life. 


Our team shows up to the shop every day with the sole purpose of helping women feel beautiful.
If you think we just sell clothing, you couldn't be more wrong.
We sell confidence. And helping women find their confidence takes a special kind of person.


So, for International Women's Day, I want to take a few minutes to write down what makes each of these women so special to me. 

Colleen
Colleen has been with us for so long that I don't even know what the business feels like without her. The day we started unpacking products in the loft of Pad 'N' Pencil was the day we met her. She stomped up those stairs and told us we would never be ready to open the next morning. If she hadn't rolled up her sleeves and started helping us unpack, she would have been right - we would not have been ready to open the next day. 
Colleen came to visit a lot throughout our first year and into our second, so when we started thinking about hiring our first employee, she was our very first choice. When we asked her to join us, she seemed a little skeptical, but thank god she said yes because I can not imagine where we would be without her. 
To Colleen:
Looking back, this was a little peek into our relationship with you and your relationship with the shop. You're always there to help us when we need it the most. You walked into that room the first day like we had known you our whole lives and that is exactly how you treat new customers who walk into the shop today - like you've known them forever. Thank you for being you.
I love you and I know the shop would truly not be where it is today without you and your willingness to jump in and help where you can.
Matty
In March 2019, we posted a job for a Social Media and Marketing Position at the shop and got an influx of resumes. One that stuck out to us was from a girl who was moving to Anaconda from Boulder, Colorado. 
After one phone call, we fell in love with her. After two phone calls, we 100% knew she needed to be part of our team. I remember asking her half way through the interview if she would be interested in a Lead Stylist Position if the Social Media and Marketing Position didn't work out. I already knew at that point in the conversation that she was exactly the type of person I wanted on our floor to greet our customers and build relationships with them.
The way she connected with us after 15 minutes on the phone (not even in person), was amazing. We asked her to come in for an in-person interview and offered her a Lead Stylist Position even though she wouldn't be in Montana until months later. 
We saved that position for 6 months because we knew she was the right fit. She started in September and after her being in the shop for a month, we asked if she was interested in becoming our Store Manager. Growing this business is something we're passionate about and having Matty to help us do that is such an incredible gift.

If you've been into the shop since Matty started with us, you know what I mean when I say she can connect with anyone. I remember having a conversation with her about how to teach connection and her response was "I honestly just care about other people and their stories". Boom. Yes. That is the kind of person I want taking care of my customers because that is how I feel, too. 
To Matty, 
Thank you! Thank you for seeing our vision and running with it. You came onto an already established team and made yourself at home - this is not usually accomplished with ease. But, because you "honestly just care" about all of us, we care about you, too. I love you dearly!
Mary-Grace 
The Social Media and Marketing Position that I talked about above? Mary-Grace was hired for that position. Her resume stood out to us because of her work and educational background. Her interview stood out to us, too. This seemingly shy girl was interviewing for a position that required her to be in front of an iPhone camera 5 days a week. Originally, this was concerning for me, but when she answered questions during the interview, the confidence in her ability to deliver valuable work shone through. She knew she could offer us cohesive branding and had important knowledge about social media analytics and marketing. And the best thing? She said she wasn't sure how she felt about being on Facebook Lives and Instagram Stories, but that she was excited to give it a shot. Here was a girl who applied for a job that required her to do things that scared her and she was all in. 
Fast forward 8 months and she's doing two Facebook Lives a week and try-on videos on Instagram every chance she gets. She's pushed herself to learn about fashion and new trends and has become comfortable giving style advice to our customers. 
Did I mention she also runs our website alongside Andrew? After literally 7 years of starting up and tearing down an online shop, we've finally figured it out. Without Mary-Grace this would not be possible. 
To Mary-Grace,
The growth I've watched you go through as a person has been incredible, but the growth that you've brought to our business and marketing is irreplaceable. Thank you for always making sure our marketing is true to our company's mission and vision and working side by side with me even when I drive you totally crazy with the 1000 new ideas I get per minute - I know your job isn't easy! I'm so thankful god put you in my life.
Toni
Toni has been a business owner most of her life, so the value she brings to our shop is monumental. She has such an amazing love for the customers she helps and makes strong connections with everyone she works with in the fitting rooms, especially mature women who need some help finding styles they feel good in. 
She's also always going above and beyond. A couple months ago, she took her shoe off and lent a customer her own sock so that they could try on a pair of shoes with it. Since then, we've gotten socks for our customers to try-on with! But, If this isn't an example of excellent customer service, what is?


To Toni, 
I've always been in awe of the way that you came into the shop and took care of it like it were your own. I can't thank you enough for doing that! Not having you in the shop as often the last couple months has made me more aware of just how much you do to make the shop feel special. Thank you for sharing your passion for visual displays and your eye for fashion. 
I love that we have similar taste in clothing and that I can always depend on you to love new styles and trends as much as I do! Thank you for being a part of the shop's team, but more than that, thank you for being a friend. 


Chelsey
Chels is the sweetest, most fashionable baker you've ever met. Yes, baker. The girl makes cookies that give Discovery Ski Area cookies a run for their money.

I met Chelsey while she was shopping at Beautiful Life with her mom and have always loved her sense of style. I could bring things to her fitting room that not everyone would be brave enough to try on and she'd always know how to style them.
So, it would be safe to say that when she sent in her resume, she was a shoe in for the job, but we went through the interview process anyways. Chels came to her interview with color-coordinated notes and dressed in an outfit after my own heart… the rest is history. 


To Chels,
I love watching you grow in school and at the shop and I can't wait to see where life takes you. I'm crossing my fingers it will be with Beautiful Life because I would love to see you and the company grow together, but if it's not, I know you'll be an asset anywhere you go. 


Hannah
Hannah is not one to shy away from a challenge. She decided to take on a master's degree, buying a new home, planning a wedding, starting a new full-time job, and working at Beautiful Life all at the same exact time. It's safe to say she's a busy lady. However, when she comes in for a weekend shift or picks up working a private shopping party, she always shows up with energy and a positive attitude. 


To Hannah,
Thank you for giving Beautiful Life your full heart when you're there even though you have so many other priorities in your life. The fact that you are able to do this says a lot about your character! I love being around you and your outgoing, bold, loveable personality any chance I get.